The pilot pushed the Saberliner throttles forward and relaxed only a little. The Army's Commanding General stayed too long. Now he, the aerial chauffeur, had to turn this jet into a time machine. Okay, what can I do? he asked himself. Let's see … skip the fuel stop; there's enough. Forget the airways; fly direct. They could still make the meeting if everything went right. Later, still making it and only twenty-three miles from the capital city, he called approach control with his deepest, in-complete-charge voice. Earlier, the en-route controller had mentioned something about weather. But he didn't need any holding delays. And, he realized, he didn't have enough fuel for a missed approach or flight to an alternate field. This one had to count.
"The airport is below minimums. What are your intentions?" the local controller asked.
"Canceling instrument flight plan. I'll complete the approach visually," he answered. Forward pressure with his left hand eased the nose over as he descended fast, feeling for the ceiling below. He broke into murky haze 1,000 feet below the glide slope, searching for the familiar shape of mountain ridge on the left with the open space to the right. Where is it? he muttered to himself, wet beads popping out of brow and palm. Suddenly a dim, darker gray silhouette appeared on the right. Right? he asked himself. No time, turn now. Looks ok, but … "The runway's there," he said confidently to the co-pilot as he pointed the nose where the runway would appear.
"Gear down, complete final landing check," he commanded. He scanned the panel once more and then looked up in time to see the surprised face as he entered the apartment window.
When we beat reality into the shape we desire, we create only enticing illusions. Fortunately, if we choose to listen, the Holy Spirit stays our fervent hammering and points us back to The Truth.
So, how's He pointing you these days?
2 Chronicles 35:20-23; Proverbs 21:5; Proverbs 14:12; Romans 1:24-25; Proverbs 15:22; James 1:22-25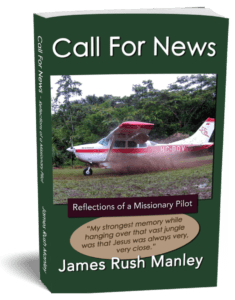 Excerpt from Call For News-Reflections of a Missionary Pilot
Click here to get the entire book.
Share This: