A picture [unavailable for this post] shows a MAF plane and pilot on a jungle airstrip. He stands in a large circle of praying adults. Older kids look about; younger ones sit naked in the grass, clustered near the middle. Differences reveal location. The black people stand straighter than the brown of South America where I served. A generic Cessna 206 sits in the grass. But the propeller blades taper to the thin point of a normally aspirated engine rather than the wide, squared-off tips of the turbocharged model we used in the Andes Mountains. So, this guy flies mostly into lower elevation airstrips. Ah yes, the pilot. I recognize him. That confirms my guess. The differences say these folks live in eastern Africa.
Differences, indeed. This impromptu prayer meeting took place on the other side of the planet. But they train us to deal with differences. We tread lightly, constantly worrying that a stupid, cultural blunder will ruin a generation's missionary effort. Will the dictionary's translation endear us or mark us as uncouth louts? How do we shake hands? Are men allowed to speak to women? Can women speak to anybody? Do we say no to the extra 50 pounds of cargo directly, or start by saying yes? Is telling the truth important or a joke everyone smirks about? Does each life have equal value or does power give worth? The labyrinth defies navigation.
On the other hand, a 206—turbo or not—is still a Cessna. The Ituri Forest looks identical to the Amazon Jungle. Chiggers bite at all grass airstrips. Paul said that all men, everywhere, ought to pray. In how many corners of the world do we circle for prayer? We serve the same Lord, belong to the same Body, and claim citizenship in the same Kingdom. Culture's coat only hides man's spirit, it does not extinguish it. Underneath, we all have hopes, dreams, fears and needs. Jesus redeemed all of us alike—Dong Chinese, Shuar headhunters, Nebraska housewives, and Laplanders. We can learn to live outside of our culture, but seeing others outside of theirs defies us. Still, we can do all things through Him who strengthens us.
So, how does He reveal His design to you in others?
Romans 10:12, 2 Corinthians 5:16-21, 1 Corinthians 12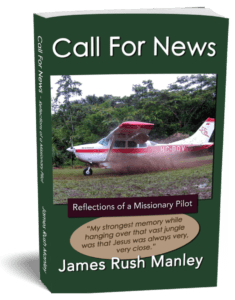 Excerpt from Call For News-Reflections of a Missionary Pilot
Click here to get the entire book.
Share This: